Composer • Author • Clinician
New Works for the 2023-2024 School Year
Recordings of my new music for Concert Band, String Orchestra, and Jazz Ensemble are now available. I have 5 new Concert Band, 5 new String Orchestra, and 2 Jazz Ensemble pieces published by Excelcia Music Publishing, Wingert-Jones Publications and Kendor Music Publishing.
Enduring Traveler
Larry Clark seldom writes at this grade level but when he does, we are always left speechless. This timeless melody has been re-imagined in the hauntingly beautiful work for the concert band. Extremely accessible, Enduring Traveler will have your ensemble on full display, with ample opportunity to showcase your student's musicianship.
The Legend of Lorelei
This programmatic work, based on the ancient and legendary warrior Lorelei, is a great new work for contest & festival performance. Scored with reduced instrumentation with only 2 Bb Clarinet & Trumpet lines and limited Saxophone, Horn in F and Low Brass – this exciting new work for band will work great for smaller bands and still sound big and full with larger ones.
Astral Dreams
What young person hasn't looked up at the stars and wondered what is up there in the cold darkness of space? The piece tries to depict this feeling with majestic fanfare-like themes in the winds, and twinkling of the stars depicted in the bells. A dream-like secondary theme is used to add to the musical mystery.

Fortis March
This is a very easy march using only the first six notes students learn in all band method books. It is intended to still teach students about march form and style even with limited technical demands. Composer Larry Clark continues to find new ways to create very easy marches that are still tuneful and fun.
Cha Cha Christmas
Perfect for the holidays, this work in the style of a cha-cha has ample teaching opportunities. Using only the first six notes of the Bb-major scale, this work is as accessible as it is fun. A great addition to the holiday concert!
Shimmering Daydreams
What is a shimmering daydream? You will know once you hear this lush and lyrical work. The work has contemplative thoughts with a bit of longing and a sense of melancholy but hopeful at the same time. Young musicians will be stretched to express themselves musically with this sensational work from composer Larry Clark.
Dance of the Sprites
Sprites are imaginary creatures such as elves, pixies, imps, or fairies. Imagine these tiny little creatures having a joyous time frolicking and dancing about. This is the type of feel composer Larry Clark is looking for with this enjoyable little tune that is contrasted by a lush and lyrical B section – stunning!
Axiom
An axiom is a statement or proposition which is regarded as being established, accepted, or self-evidently true. Make your orchestra sound mature with this bold piece that includes fanfare gestures, strong themes and contrasting lyrical music. A strong choice for festival performance.
Christmas in Brandenburg
Imagine, if you will, if Bach decided to infuse popular Christmas carols into the fabric of his famous Brandenburg Concerto No. 3. That is the idea behind this arrangement, to seamlessly meld together the popular carols by arranging them in the style of this famous Bach work. Composer/arranger Larry Clark has done it again!
Christmas Stars
Veteran composer and arranger Larry Clark has crafted a masterful mashup of familiar carols and holiday songs in this easy medley. Your students and audience will enjoy this engaging and entertaining combination of familiar music.
Christmas Stars - Larry Clark
Go With the Flow
As the title implies, this is a laid back swing chart that features lots of tutti rhythms in the winds to help teach this important Jazz style. There is a cool harmonic shift in the B section of the chart that adds a colorful flair. This is a very easy chart that sounds big and full, even with reduced instrumentation.
Agave
A high energy Latin-rock tune is always fun and Agave fills that slot perfectly. Plenty of ensemble rhythms will help this chart come together with a minimum amount of rehearsal time and your band will have a great time with the energetic groove.
Flexible, Compatible & Adaptable Works
Flexible and adaptable instrumentation music has been a large part of my mission as a composer/arranger/author for many years now, and these types of works are needed right now more than ever. I've created a special page on my website with information on all of the books and pieces I have done that work in this manner.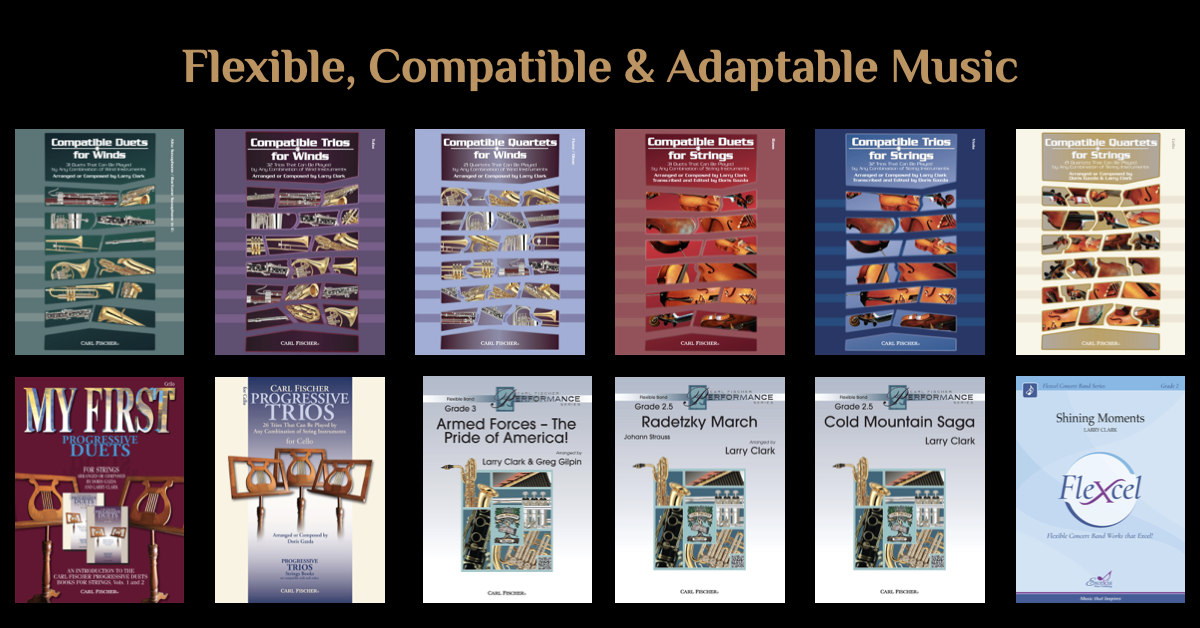 "Angel Echoes" was recently add to the Florida Bandmasters Association MPA music list at grade 1. Listen to the piece at this YouTube link:
Transcending for full orchestra is the winner of the 2016 Texas Orchestra Directors Association Composition Contest and is now available through Carl Fischer Music.