Composer • Author • Clinician
New Works for the 2021-2022 School Year
Recordings of my new music for Concert Band, String Orchestra, and Jazz Ensemble are now available. I have 4 new band works, 5 new string Orchestra, and 2 Jazz Ensemble pieces published by Excelcia Music Publishing.
Art is Life! This sentiment is abundant in this wonderful new work for concert band by Larry Clark. Full of flourish and thick brass writing harkening back to the days of Alfred Reed, Ars Vitae has everything you could want in a contest and festival work.
Radiance perfectly describes veteran composer Larry Clark's powerful new work for concert band. An excellent choice for festival or contest, Sonic Radiance is a bright and melodic piece. With many opportunities to teach form and structure and a wonderfully expressive lyrical section that will push your ensemble's musicianship, this piece has it all!
Sonic Radiance - Larry Clark
Larry Clark's newest march, Ingenuity, is the ideal introduction to the march style.  It is a fast and fun uptempo march that will be perfect for contest and festival.
Ingenuity March - Larry Clark
Twilight Smiling is a standout piece for its uniquely sensitive nature at this grade level.  Larry Clark's new lyrical work offers wonderful opportunities to teach expressive playing and phrasing, and will surely be a hit at any concert throughout the school year.
Twilight Smiling - Larry Clark
Everything is a beautiful new work by composer Larry Clark. Featuring the Harp and utilizing wonderful soloistic sections with the Violin, Everything has ample opportunity to work on many techniques with your string orchestra. Inspired by the phrase "Family is Everything", this work can be used for many occasions or just to strengthen bonds within the orchestra.
This piece is epic, fresh, and cool. Your students will be asking to play this on loop! Great part-writing gives each section something to work towards with lots of opportunity to practice bowing technique as well as pizzicato passages. Oblivion is going to fit on any concert program!
Intertwining folk songs and Christmas carols gives this piece a unique voice! Great for expressive playing, this work includes Silent Night, Away in a Manger, Greensleeves, and Amazing Grace. This piece will be a certain winner with such a line-up of well-known tunes!
Christmas Grace - Larry Clark
This wonderful folk song has been beautifully arranged for string orchestra. On top of a melody that you won't be able to get out of your head, there are ample opportunities to work on lyrical playing and phrasing. Every concert needs something musically expressive, and this arrangement is sure to impress musicians and audiences alike.
Kelvin Grove - Larry Clark
There is sometimes a lack of sensitive music at this grade level, which is why Twilight Smiling by Larry Clark is so great. Wonderful opportunities to teach expressive playing and phrasing, this lyrical work will be a hit at any concert throughout the school year.
Twilight Smiling - Larry Clark
Larry Clark has composed a great introduction to the blues that is filled with ensemble passages that work beautifully. One of the fundamentals of the blues is "call and response" and this chart demonstrates exactly what that is all about. There are some fabulous sections between the band and Piano and later between the Brass and Saxes that you can use to explain some of the history behind the blues. 
Here's a very easy rock tune with a fun twist – it is built on ten measure phrases! Your band will sound great in a hurry with this one and will have a blast in the process. Punchy Brass licks and outstanding Saxophone lines are a feature of this engaging rock chart. As a bonus, there is a separate guitar chord frame chart specifically for this piece that has basic and more advanced diagrams.
Box of Rock - Larry Clark
Flexible, Compatible & Adaptable Works
Flexible and adaptable instrumentation music has been a large part of my mission as a composer/arranger/author for many years now, and these types of works are needed right now more than ever. I've created a special page on my website with information on all of the books and pieces I have done that work in this manner.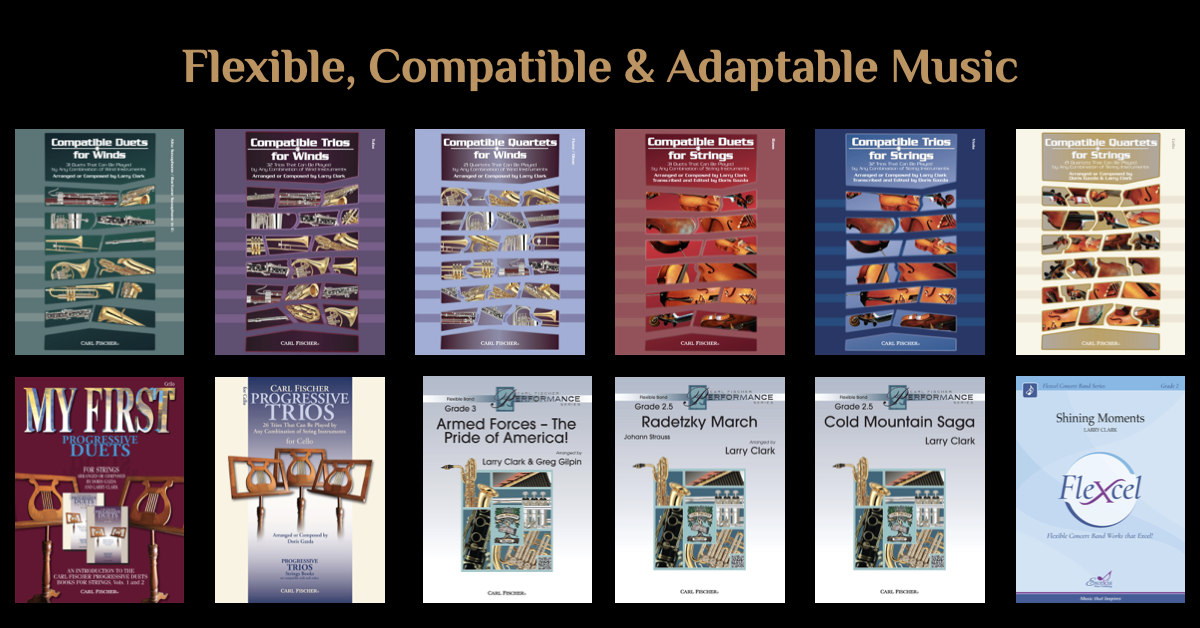 "Sleep, My Child was recently add to the Florida Bandmasters Association MPA music list at grade 2. Listen to the piece at this YouTube link:
Transcending for full orchestra is the winner of the 2016 Texas Orchestra Directors Association Composition Contest and is now available through Carl Fischer Music.